"The lovely thing about cruising is that planning usually turns out to be of little use" – Dom Degnon
Of course, we thought we knew exactly what we were getting into. A 38ft, scoop stern, bluewater cruiser, with guest cabins and plenty of storage… our new dream liveaboard life, sailing slowly around the globe, without a cloud in the sky. Right?
Our initial searches took us to a Moody 37 in Scotland… it's a long story, but essentially the viewing ended with a boat full of steam (we didn't do it). Up next was a Trident Warrior 38, Sunbeam 37, and (old) Bavaria 38, all lying in Greece.
By this point, the prospect of launching somewhere warmer had become increasingly more attractive. Our porthole shopping from a drizzle-strewn Manchester (in February), was making a future of swimming at anchor hard to conjure. Start somewhere you want to be… not a bad idea on reflection.
"I want a boat that drinks 6, eats 4, and sleeps 2" – Earnest K. Gann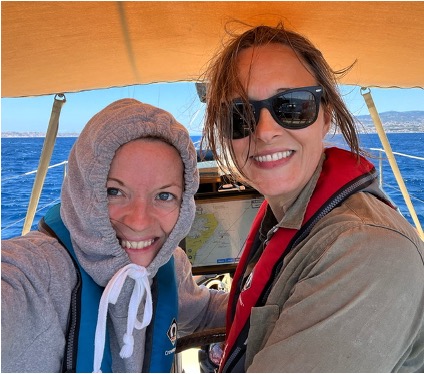 Finding the perfect boat
The game plan in Greece was to get on as many boats as possible. Neither of us had ever lived aboard or owned a boat before, so it was a steep learning curve, to say the least. We were first-time buyers, and whilst Kath had sailed most of her life (mainly dinghies), T really hadn't.
So, with raised aspirations and flights booked, we eagerly shared our 85-row 'boat appraisal' spreadsheet with local brokers, only to be frankly disappointed by their unmatched enthusiasm. Not to worry though. Turns out the sailing community is extremely forthcoming with counsel, which is brilliant, but also exhausting. It's fair to say our notebooks and brains were at capacity, so before we had time to mutter 'depreciating asset', we were halfway to Preveza.
"There is nothing absolutely nothing half so much worth doing as simply messing about in boats." – Kenneth Grahame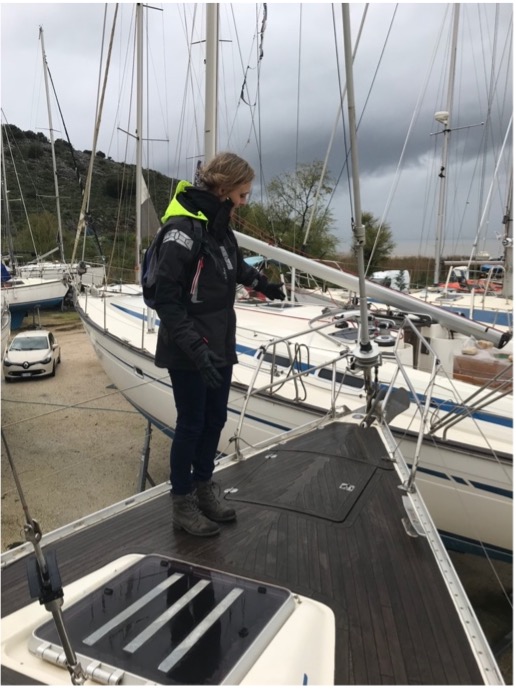 The broker did hold up his end of the deal, in as much as, he showed us on some boats, in the same yard as those we had booked to view, of which he mostly had access to without
breaking in. However, despite keeping a genuinely open mind, even when we climbed aboard a waterlogged Catalina Mk3, we did decline to proceed with the initial few: 'Hey we think they're great boats for someone, but the chemistry just isn't there'.
So, when a slightly-smaller-than-planned Victoria 34 named 'Caladh' was propositioned as our dream liveaboard sailboat, we really were stepping onboard (we thought) to rule her out – possibly another life lesson here, but I digress…
Oh my goodness, she was perfect for us! Stood in the cockpit behind the wheel, on the hard in the yard, we both looked forward and pictured her pulling us along full sail. We both fell for her big time. We knew it instantly… and so did the broker.
It's strange because Kath had actually completed her Day Skipper in a Victoria 34 ('Kipper') several turns around the sun ago…. but could this be the perfect liveaboard sailboat without limitations we'd been searching for?
Five-years on… and Caladh is still the boat we bought with absolutely no regrets. Here's why we thought so then… and why we still think so now…
"The planning stage of a cruise is often just as enjoyable as the voyage itself, letting one's imagination loose on all kinds of possibilities. Yet translating dreams into reality means a lot of practical questions have to be answered." – Jimmy Cornell
Living onboard a Victoria 34
Caladh had been partly lived on by our POs for 6-months in each year, so many of her systems had already been designed and stress tested for liveaboard life. She came with two soft 150L bladder water tanks (under the saloon bunks), one 99L diesel tank (quarter berth), a wind generator, solar, 80m of anchor chain, autohelm, radar, AIS, and a keel-cooled fridge (which we've since learned gives us some small-scale bragging rights). Incidentally, she also came with two wonderful POs, Simon and Joanna, who without a Victoria shadow of a doubt have life-long bar credit with us for answering all our stupid questions (we will be eternally grateful – thank you!).
Whilst boats are personal and what's important to one owner can be negligible to another, Caladh continues to demonstrate why the Victoria 34 exceeds the brief. Firstly, Chuck Paine's beautiful design has made the absolute most of not a lot of space. Probably the biggest surprise to people visiting is just how much space there is around her winged saloon table (seating six adults very comfortably). The table doubles as our home office too, as we are both still working, part-time during the summer months and full-time over winter.
Small space living
The forward cabin is generous and with three portlights and a hatch, it's light and airy with plenty of stargazing potential. One game-changer for us was when we got the upholstery re-done, we added 12-inch Italian natural latex breathable foam to the bunk. You won't believe it, but we've even been known to sleep at 90-degrees in a bad roll! Our sails and canvas live under the forepeak, but we did add a fiberglass holding tank beneath the port berth, to ensure 'cruising without limitations' was available to us humans too(!)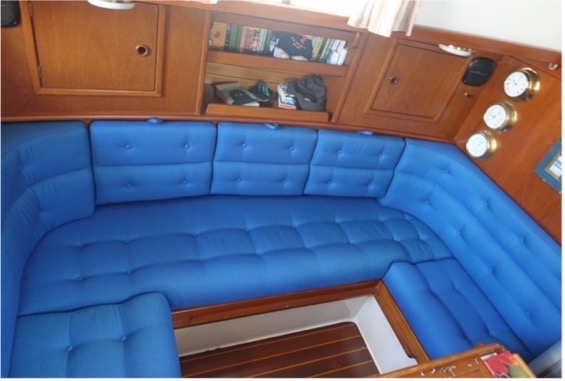 There aren't tons of spare lockers for human belongings, especially when you consider boats have more accessories than newborns and particularly if you adopt the 'heir and a spare' DIY maintenance strategy we do. However, folding clothes 'spark joy' style and our 'one in one out' policy (probably inherited from the clubs of Manchester) does take the personal storage space quite a long way past sufficient.
We don't drink water straight from the bladders despite having a filter in-line (cause we're divas), so we use a Brita filter jug to filter potable water we've stored in cans and bottles (kept out of the sun and as fresh as possible – hopefully with some chlorine in for good measure too). Although a water-maker is firmly on the future 'wish list'(!), we've measured for a Katadyn Spectra and believe it can be done (so pray tell if you know!). That said we are forever mindful of the mantra 'complicated systems = complicated problems.'
"If you can't repair it, maybe it shouldn't be on board." – Lin and Larry Pardey
The galley is a good size though, with loads of provisioning space (especially in the larder). Did we mention the keel-cooled fridge(?!), goodness this saves on the amps. At 12-years old, it did need a dryer fitting which is a common problem/fix apparently, but it seems fine for now. We did also replace the cooker with a Plastimo Neptune 4500 because the oven had disintegrated, and metal-sprinkled lasagne was no longer desirable, but otherwise Caladh was basically good to go.
The cockpit is roomy, and we're often surprised by how many draped humans it can support at nap time. Likewise, exercise on an average sailboat is often a challenge, but even despite the slightly smaller bow, we manage to squeeze a yoga mat in. You've just got to be careful not to knock yourself out on the windlass as you come up into upward-facing-dog(!) We're also an advocate of the TRX resistance bands, given how many anchor points there are on a boat, you don't need a lot of gear to keep fit.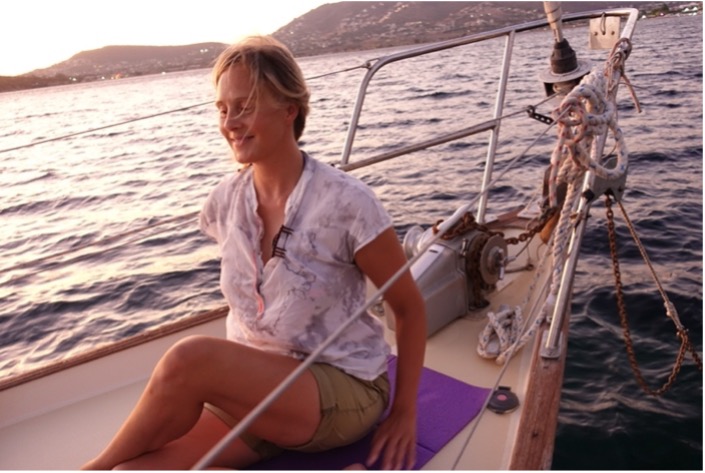 "I don't know who named them swells. There's nothing swell about them. They should have named them awfuls." – Hugo Vihlen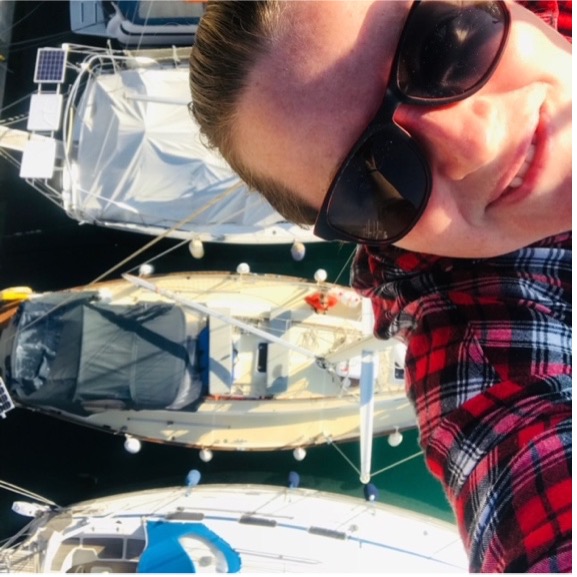 Working from home
Our needs were also slightly different to the POs with work, and our aspirations to live onboard more fulltime. Our biggest issue for a while was power. Generating it was easy, but the issue (as ever) was storing it for future use. Miraculously we managed to squeeze two 170ah Victron Super AGMs into the battery box, which we paired with a 245W solar panel and Aero6gen wind generator. The hook-up was new too, we moved the alternator output to prioritise the house and added a dc-to-dc charger to keep the start charged. So far so good (touch wood). That said, Lithium will take over and is lighter, so if 'stinky' (the engine) packs-up and we've got another re-wire in us, we'd probably opt for all electric/Lithium solution.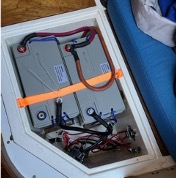 What we don't have a perfect solution for yet is the heat, noise and rolling when trying to work. Sending clients seasick via Teams was never the aspiration, although generally the problem has probably been too much work. Afterall, sailing and looking after a nine-tonne dependent takes up a lot of time, so there is a degree of prioritisation… 'Do we move on and anchor somewhere more beautiful and possibly cooler? Or do we stay somewhere we'd rather not be because it has decent Wi-Fi and less swell?' Ultimately, more work = more compromise.
"At sea, I learned how little a person needs, not how much." – Robin Lee Graham
Sailing and long-term plans
Looking ahead, future modifications will mostly involve upgrading what is already there and replacing out of date devices where parts are no longer forthcoming. This year our ST6000 auto-helm retired itself, despite having a spare course computer(!), and whilst hand-steering was ok(ish) between Greece and France (via Sicily, Sardinia, Corsica), our preference on longer passages (especially at night) is for the autohelm to be fully operational(!)
Sailing Caladh is magic though and even when the meltemi or mistral has dumped on us more than expected, she's always coped extremely well (even if her owners haven't!) For the first couple of years T genuinely didn't believe downwind sailing existed, as in true Med style we mostly had it on the nose (or none at all). When the sails are balanced Caladh canters upwind and if we're lucky with the angle we love testing our concentration goose-winging dead downwind. Reefing isn't too bad from the mast, now we've got the routine down, but tailing some lines to the cockpit could be on the cards in the future.
Med mooring was interesting to begin with(!), but this is the price we pay for stability and strong upwind performance. Initially, it was like watching someone play snooker with a rope, but once the four secret ingredients were discovered (1. long run-up where possible, 2. more greasy stick than you'll ever be comfortable with in close quarters, 3. Use the prop-walk to your advantage where possible, and 4. good exit strategy and negotiation skills on the radio; 'she's difficult in reverse' in the right language goes a long way), it's not to be avoided. Lots of practice, hold your nerve and a decent set of resilient stern fenders help too.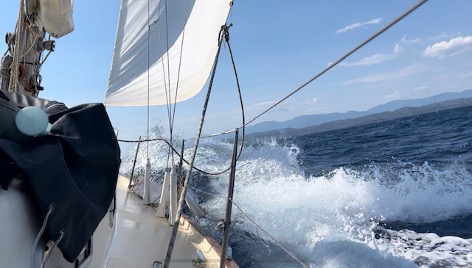 Aside from boat projects, one of our biggest challenges has been navigating the 90-day Schengen 'shuffle' post-Brexit. Determined to not let this shatter our dreams, we embarked on a mountain of paperwork this year to secure a French (temporary) visa. This will take us into 2023, where we'll need to figure something else out. Other than that, we need to decide whether to go North or South out of the Med (all ideas welcome!).
No regrets
Overall, we've made hundreds of mistakes and many decisions we would alter with the benefit of hindsight, but our choice of vessel has never been in question. We thought we needed a bigger boat, but several times over we've been grateful for the smaller invoice. The biggest challenge and achievement is simply keeping going. Making the decision to actually get up and leave felt like the hardest part, but once you've done it, you'll wonder what all the fuss was about… (and why you didn't do it sooner).
"A ship is safe in harbour but that's not what ships are for." – William G.T. Shedd
So, if you're wondering whether a Victoria 34 is a liveaboard boat, we're here to say 'YES, it has been for us!' They're spacious, seaworthy (we truly believe we will give up way before Caladh does) and living aboard (maybe true for any boat) is both much less and much more exciting, dramatic, and romantic than it looks (and never boring).
Whatever your plans, we wish you fair winds and following seas… and may your bilge pump always be faster than your slow water ingress.