LOG – 27 July 2022
WE ARE BACK!! We returned to Caladh in May and are currently living/filming Season 4. Our route takes us (all being well) from Kalamata (Greece) to Nice (France), via Sardinia and Corsica.
Keep an eye on The Sailing Nomads YouTube channel for new videos to see and join in the adventure for yourself.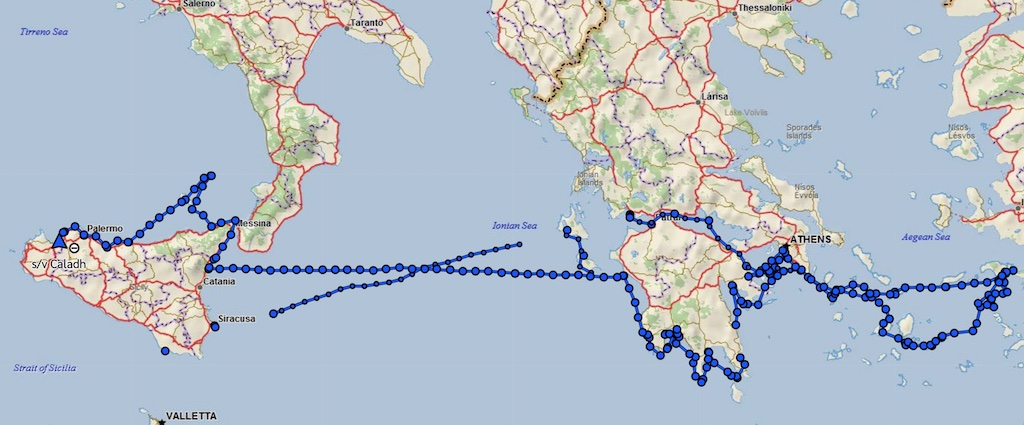 Key Updates:
Start Date: 19th July 2018 at 14:18 hours
Start Location: Aktio Marina, Preveza, Greece
Total Nautical Miles: 2,870 (updated 12th Nov 2020)
Ports Visited:

Greece: Preveza, Vonitsa, Lefkas, Meganisi, Palairios, Nidri, Kalamos, Vathi, Atheras, Lixouri, Argostoli, Pessades (Kefalonia), Zakynthos, Messalonghi, Patras, Trizonia, Corinth, Corinth Canal, Korfos, Angistri, Epidaurus, Aegina, Palaia Fokaia, Kythnos, Syros, Paros, Amorgos, Levitha, Patmos, Lipsi, Arki, Samos, Agathonisi, Furnoi, Ikaria, Mykonos, Pelopennesus
Sicily: Siracusa, Pozzallo, Marina Di Ragusa, Portopalo, Riposto, Taormina, Messina, Melazzo, Cefalu, Palermo, Teresini, Ballaste

Longest Passage: 295 nautical miles
Top Speed (over the ground) Under Sail: 8.5 knots
Top Wind Speed: 42 knots
Tallest Seas Encountered: 2.5 meters
Broken Parts:
x2 domestic batteries

x2 toilet pumps
saloon clock
handle on the tender
x1 jerry can
toilet roll holder
fuel gauge
holes in upholstery
x2 main sail sliders
x2 stanchion bolts
'bad fuel' = engine failure
screws loose
galley sink pipes clogged
fuel lift pump gasket perished
cabin LED gone
galley LED light
x1 wind generator blade
start battery
packing in the stern gland
x1 fairlead
x1 lost fender (Brenda… RIP)
outboard fell in water (rescued)
x2 bilge pumps
leather steering wheel cover
LOG – 18 Sept 2020
For us 2020 felt a bit like looking both ways before crossing the road, and then getting hit by an aeroplane! We'd left a 'business as usual' Manchester to fly to Greece, but almost overnight everything changed. On arrival to Samos (14 March) we weren't required to quarantine, however, the very next day Greece went into full lockdown and it with the blink of an eye it became essential for all new visitors – we decided this applied to us too.
Three agonising months went past, with varying degrees of lockdown life. We spent every day weighing up the variables, flights, case numbers, political stability, resources, Brexit, Caladh, personal and public health risks – you name it, we had a decision tree for it! Eventually a short window presented itself and we were incredibly lucky to be able to safely move Caladh, and crew, closer to the mainland (and ultimately home!).
We sailed from Samos to Athens, and then South through the Peloponnesus, dodging tourists and minimising trips ashore as much as possible. In the end, it was a season of incidental sailing, amongst a deluge of uncertainty and global crisis. We had some sublime moments despite the madness, but ultimately finding safety and being close to family and friends was all that really mattered.
We will return when it's safe to do so, we don't know when yet, but as always we'll keep you posted! Check out The Sailing Nomads YouTube channel to see and join in the adventure for yourself.
LOG – 19 July 2019
We are currently in the Aegean, doing our best to hide out from the strong Meltemi winds and sail short island hops when we can! The wind has been stronger than we expected, but some of the locals have told it has been particularly windy too. With two passages under our belt from Greece to Sicily and back again, we don't have a huge distance to cover to reach our 2019/20 winter destination. So we are enjoying meandering between islands and understanding the nuances of the different islands.